Welcome to Fiddlestix ~ Now In Our 5th Year!
FIDDLESTIX is located in the Blue Ridge Mountains of North Carolina, where the beauty of nature has inspired craftsmen and artisans for hundreds of years. Our store reflects the history of the area and its inhabitants with its offerings of antiques, artifacts, collectibles, locally built furniture (both old and new), unique hand-crafted baskets, quilts, soaps and foods. We are very proud of the many local potters, painters and other artists whose works we carry.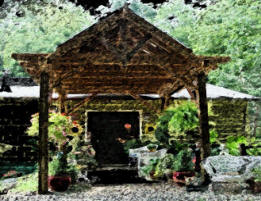 Only minutes from Asheville, Fiddlestix is located in the friendly little town of Mars Hill, just off US 19 (temporary 26). Make FIDDLESTIX a part of your visit, and stop in at one of Mars Hill's wonderful restaurants.
Click here for some of our favorite places to visit in the Mars Hill area.
Hours of Operation
Winter Hours: Friday and Saturday from 10:00 AM to 5:00 PM